May 7, 2021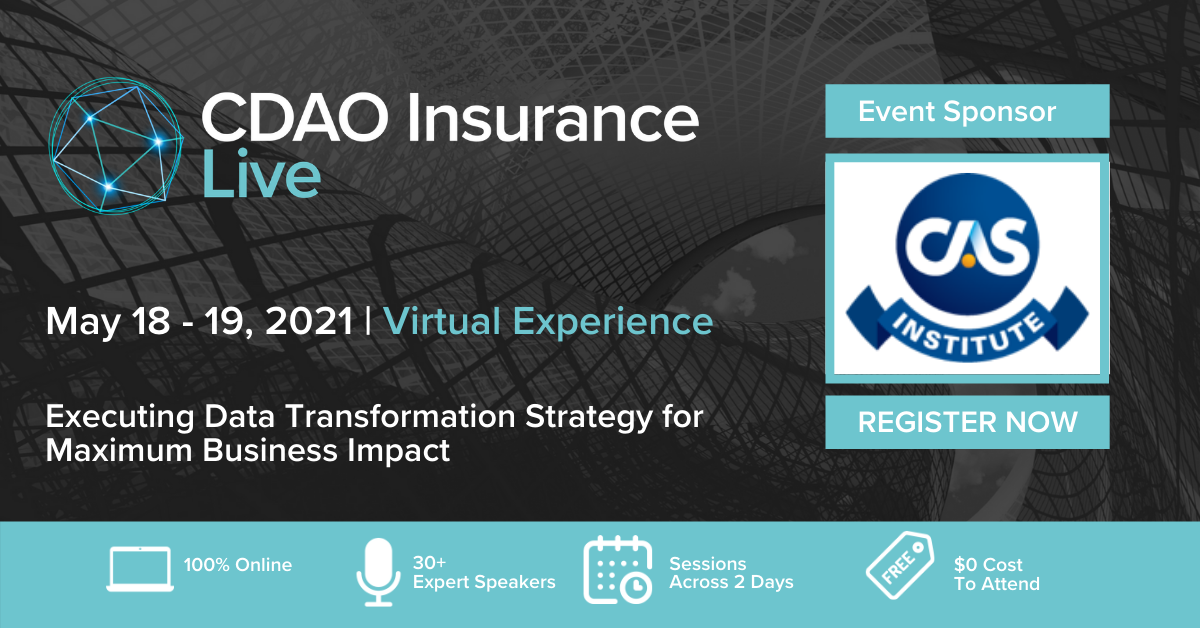 The CAS Institute is proud to be a media partner for an upcoming virtual conference for senior data analytics executives and professionals: Chief Data & Analytics Officer, Insurance Live (May 18-19, 2021).
CDAO Insurance Live 2021 is a fully virtual event designed for senior data analytics executives across all insurance verticals. The program features highly relevant topics in insurance today, presented by some of the industry's brightest leaders. Registration is free and the list of confirmed speakers includes iCAS Executive Team member Todd Lehmann, FCAS, CSPA. The event is built to allow for idea sharing and interactive conversation amongst peers, allowing for optimal networking and discussion. Visit the website to find out more and register for your free pass to attend: https://bit.ly/3x96nFZ.
This year's theme is "Executing Data Transformation Strategy for Maximum Business Impact," with featured topics including:
Data Governance
Advanced Analytics & Modeling
Culture & Business Foundations
Automation
Cloud
CDAO Insurance, now in its 6th year, features a fully immersive and collaborative live format that will ensure you maximize your time to network with the best of your peers and allow a deep dive into the most pressing challenges and opportunities facing the industry. For the full agenda and additional information, please visit the Chief Data & Analytics Officer, Insurance Live website.
Join us online May 18-19! Register for your complimentary ticket here: https://bit.ly/3x96nFZ