September 21, 2017
More than 30 people wanted to know "What The CAS Institute is Up To" when they attended an informational seminar by that name last week at the Casualty Loss Reserve Seminar (CLRS) in Philadelphia.
At the session, Bob Miccolis, FCAS, MAAA, FCA, former managing director, Deloitte Consulting LLP, Amy Brener, PMP, director of The CAS Institute, and Louise A. Francis, FCAS, CSPA, MAAA, consulting principal, Francis Analytics & Actuarial Data Mining, Inc.,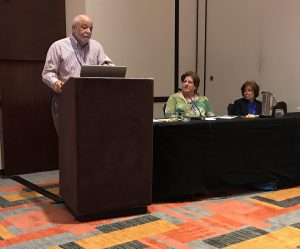 shared the latest information about the Certified Specialist in Predictive Analytics (CSPA) credential being offered through The CAS Institute (iCAS), a subsidiary of the CAS.
"We were thrilled that so many people came to the session to learn about iCAS," Joanne Spalla, chair of the iCAS Membership and Implementation Committee, pictured below, commented.  Several attendees continued the conversation after the session was over, asking more specific questions about membership in iCAS, the Experienced Practitioner Pathway, and how quickly they could get started.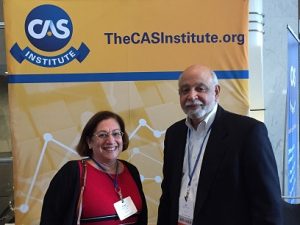 Brener also noted the high level of traffic at the iCAS information table, set up in the seminar's main Exhibit Hall.  "People came by with questions about the external readings we added to the Data Concepts and Visualization Exam, the degree of rigor compared to FCAS and CPCU exams, and the degree of overlap between the CSPA and CAS' new MAS 1 and 2 exams," Brener commented. "There were also a few questions about the Catastrophe credential we are starting to develop.  It's clear that there is interest in iCAS among CAS members in a variety of practice areas."
April Yu, manager, predictive analytics at Global Indemnity Group, Inc., who was among six session participants who came just for the presentation and were not attending CLRS, was especially interested in the formation of a specialist practice community within iCAS for those interested in data science and predictive analytics. Yu explained she is the only one in her company doing predictive modeling and would love to connect with others doing similar work. She told the panelists, "Five years ago, when I tried to switch from traditional pricing work to predictive analytics, every employer I applied to required experience in this field.  The experience I didn't have.  I eventually landed on my dream job by pure luck.  But today, luck is no longer necessary. iCAS is creating a pathway."
Additional information on the CPSA credential can be found at https://thecasinstitute.org/credentials/predictive-analytics-and-data-science/.