April 27, 2017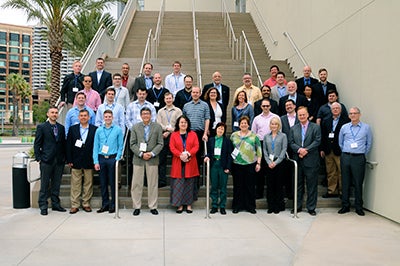 On Monday, March 27, a group of over 40 predictive analytics practitioners gathered in San Diego for a day of unique information sharing and networking from The CAS Institute (iCAS).  The inaugural iCAS "Community of Practice" event, which consisted of sessions specifically tailored for advanced data practitioners, covered a variety of topics, including external data, machine learning, and model deployment for implementation; sessions also addressed data ethics, risk governance, and best practices for predictive modeling.
Program speakers included:
Pete Bothwell, FCAS, Vice President of Commercial & Group Benefits Data Science, The Hartford
Louise Francis, FCAS, CSPA, MAAA, Consulting Principal and Founder, Francis Analytics and Actuarial Data Mining, Inc.
Jeff Kinsey, FCAS, CSPA, MAAA, Research Manager, State Farm
Todd Lehmann, FCAS, CSPA, MAAA, CPCU, Vice President & Chief Actuary, Quincy Mutual Fire Insurance Co.
Hernan Medina, CSPA, CPCU, Senior Principal Data Scientist, ISO
Chris Monsour, FCAS, CSPA, MAAA, Vice President Analytics, Predictive Business Applications, CNA Insurance Companies
Our goal was to give attendees the opportunity to hear from colleagues with a wide range of interests in the area of predictive analytics," said iCAS Director Amy Brener.  "Participants ultimately appreciated not only the focus on the practical application of predictive analytics to P&C insurance, but the opportunity to network with peers in their specialty area."
The event was held in conjunction with the CAS Ratemaking and Product Management Seminar, which also featured educational sessions on predictive modeling and analytics. Stephen Stone, CSPA, FSA, Chief Actuary and Data Scientist at Agam Capital Management, attended both the iCAS Community of Practice and RPM events, and told event organizers that it was "the best conference of any kind that I have ever attended."
Check TheCASInstitute.org to find out about future Community of Practice events.