February 15, 2017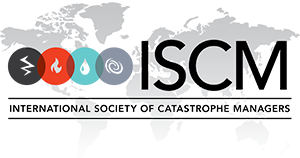 Orlando, FL, February 15, 2017 – The CAS Institute (iCAS), a subsidiary of the Casualty Actuarial Society (CAS) offering specialty credentials to qualified quantitative professionals, and the International Society of Catastrophe Managers (ISCM) announced today that they have signed a Memorandum of Understanding (MOU) to partner on the development of professional education, thought leadership, tools, resources and other offerings for professionals specializing in catastrophe risk modeling and catastrophe risk management.
"The CAS Institute sees significant opportunity to meet the unique professional needs of specialists in the catastrophe risk field," said Bob Miccolis, FCAS, chair of the iCAS Leadership Advisory Council, during the Reinsurance Association of America's Annual Conference – Cat Risk Management 2017 in Orlando.  "The ISCM is the leader in the 'catastrophe risk' modeling and management domains; their expertise, coupled with The CAS Institute's capabilities to design and deliver professional qualifications through educational programs, tools, resources, examinations, review courses and credentials for quantitative specialists, will benefit current and future generations of catastrophe risk professionals in their career development."
"ISCM is excited to collaborate with iCAS in meeting the needs of catastrophe risk professionals," said ISCM President, Randy Law.  "Through this partnership, our members will be able to contribute to professional development efforts and access leading edge educational resources, training programs and other offerings that are finely tuned to catastrophe risk specialists."
The iCAS – ISCM partnership will also involve another iCAS strategic partner, The Institutes, which is a leading provider of high-impact professional education resources and certification exams that shapes the careers of risk management and insurance professionals.
The CAS Institute (iCAS) empowers quantitative professionals in the insurance industry by providing innovative, rigorous, and trusted credentials backed by the Casualty Actuarial Society's globally recognized educational standards, as well as the specialized knowledge and resources that analytics professionals need to impact their organizations and their careers. Learn more at TheCASInstitute.org.
About the International Society of Catastrophe Managers
The International Society of Catastrophe Managers (ISCM) is a professional association that promotes catastrophe management professionalism within the insurance industry. The ISCM is a global organization with members in over 25 countries and provides forums for exchange of ideas, understanding current catastrophe management issues, and networking among catastrophe managers.