May 2, 2017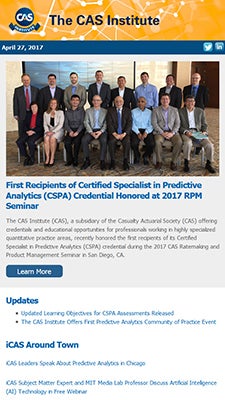 The CAS Institute recently distributed the April 2017 edition of its monthly e-newsletter, which covered:
First Recipients of Certified Specialist in Predictive Analytics (CSPA) Credential Honored at 2017 RPM Seminar
Updated Learning Objectives for CSPA Assessments Released
The CAS Institute Offers First Predictive Analytics Community of Practice Event
The CAS Institute Blog
iCAS Around Town
Interesting Industry Links
We Have a Winner!
And More!
To receive future editions of the monthly e-newsletter directly in your inbox, join The CAS Institute as a member, with dues waived through September 2017, or just sign-up for the email update.